59th Annual Horse and Mule Packing Class
We currently do not have spring/summer dates set – Please fill out the form below if you would like to be notified of future classes.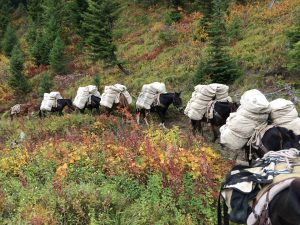 Have you ever wanted to learn the art of packing all of your gear onto your horses and hitting the trail for parts unknown? You will learn everything you need to know to safely pack up and head to the back country with your horses or mules.
All stock and equipment is provided.
There are no age or gender restrictions on the class. This is a great class for parents and kids or couples to take together! This class is full of interesting and entertaining information, for everyone from the beginner to a more experienced rider.
Course Details:
Due to restrictions and concerns surrounding Covid-19 we have restructured the class compared to previous years.
This year the course will take place over five consecutive days, with a 30-minute lunch break. You will receive 35 hours of instruction as compared to the 24 hours of instruction with our previous schedule.
Course content on Monday April 19th will be largely review and practice of what we have learned over the first four days of the course. If your schedule cannot accommodate the fifth day you will still gain all of the knowledge and skills.
Registration:
If paid in a single payment course registration is $500. If paid in three payments of $180 course registration is $540.
Payments will be accepted via cash, check, Venmo or Credit Card via Square Invoice. Course registration also includes a copy of Smoke Elser's book, "Packin' in on Mules and Horses"
Class spaces are limited to ensure proper social distancing and Covid-19 precautions. Be sure to register as soon as possible to reserve your space.
Please register below and we will be in touch to confirm your space and payment details!
"My husband just finished the annual packing class with Jordan and Amanda and he had nothing but great things to say about his experience. Jordan was very thorough in his teaching and shared his knowledge and experience in a very simple, clear and understandable way. My husband is excited to put into practice the skills he acquired through attending this class. This would be a great class for anyone wants to get started in packing or for anyone looking to expand the knowledge and skills they already have." – Jill Taylor, Idaho
After moving to Montana in 2001, Jordan Knudsen rapidly grew a passion for horses, mules and back country travel. After a few years of experience in self-taught techniques, he completed Smoke's packing course in 2004.
Since then, not only did Jordan take the time to become proficient in the techniques of decker packing, but he also took it upon himself to improve the equipment he was working with. In 2006 he started a business, now called Sun River Saddlery, that is devoted to building equipment that carries on the traditions of decker packing and back country travel.  In 2020 he founded Heart Bar K Enterprises, a business devoted to providing support for many aspects of the Western lifestyle.
Jordan spends his fall season as a Licensed Backcountry Hunting Guide, contract packs through the summer season and enjoys as much personal and family time in the mountains as time allows.
Jordan has been instructing alongside Smoke Elser going on four years now in the classroom, the field and other public demonstrations.
After graduating from the University of Montana , Smoke spent the next forty-five years as a wilderness outfitter in the Bob Marshall Wilderness and has spent more than 55 years as an instructor in packing, horsemanship and minimum impact camping. Smoke is past President of the Montana Outfitter & Guides Association and Professional Wilderness Guide's Association, founding member (1974) and Past President of Back Country Horsemen of Missoula serves on the advisory Council of Elders for MWA and is currently active on the USFS Region I Pack Train Board. He is an instructor at the Nine Mile Wildlands Training Center, Region I, USFS. He has missed only one or two years of traveling in the Bob Marshall each and every year for the past 56 years.
It might be noted that he failed miserably at "retirement".
Smoke is a recognized leader in practicing the art of Alight on the land horse use,
designing and building new light-weight horse and packing/camping equipment and in educating the public in these areas. Well over 5,000 students have taken his classes during the last 55 years and well over that number of guests have experienced his hands on use of such techniques. He is the co-author of the book, "Packin' in on Mules and Horses", a well-known "how to" book on packing and horsemanship.  Learn more about Smoke in the National Geographic article.
Due to concerns surrounding Covid-19 Smoke may be present intermittently.